Shopping Cart
Your Cart is Empty
There was an error with PayPal
Click here to try again
Thank you for your business!
You should be receiving an order confirmation from Paypal shortly.
Exit Shopping Cart
Hunter's Home Improvement
I am finding more and more that when I go to a customer's home for a specific project I hear, "hey, since you're here, can you help me with ..."  I truly enjoy helping people, and helping around the house with little things that have irked people, but they thought were too small to bother with, really makes me happy.  I went to a house the other day to fix a broken window.  Once I got there, I was asked to look at some cabinets where the laminate was peeling off, a ceiling that was peeling a bit, a rotten window sill, and a few other minor items.  I was able to clear up this list in very little time and my customer was thrilled to get all those little issues cleaned up.  Days like that make me feel great!

I was working today for a woman who is fixing up her apartment to make it ready for sale.  Hunter's Home Improvement is your one stop NYC Handyman service for all re-sale repairs for your apartment.  Preparing your home for sale can greatly increase the value and appeal.  Sometimes the small inexpensive repairs can make a huge difference in selling your place.  If you have damaged walls from picture nail holes, or just day to day dings and damage, we can make your walls look new again; increasing appeal and value.
Happy New Year!  This is time to start your new year off right.  Let us help you to complete those annoying little tasks that you've always wanted to complete, but just couldn't find the time.  We have the time!  No job is too small.  We are your NYC Handyman, so give us a call, and we will start your new year off right.
I was asked the other day about licensing, bonding and insurance.  Some buildings have very strict rules as to who can do work in certain buildings.  Let me assure you, I am a licensed contractor in New York City as a NYC Home Improvement Contractor, license number: 1471132 and I am bonded and separately insured for over 1 million dollars.  I know it's upsetting and confusing with all the post Sandy contractors and people posing as contractors trying to get your business, but, I wanted everyone to know that we are your safe and reliable licensed, bonded and insured NYC Home Improvement Contractor and NYC Handyman.
Are you moving into a new apartment and want a few things done before the furniture arrives?  Let Hunter's Home Improvement be your number one NYC Handyman.  We can add an accent wall to your plain white bedroom, or pick out just the right color to compliment your couch cushions.  Do you have a walk-in closet that doesn't hold all of your clothes?  Hunter's Home Improvement, your NYC Handyman can help by adding high and low shelving to double your closet's capacity.  Give us a call and we would be happy to come by and discuss what we can do for you.  Remember, "No job is too small"
Want to add your personal touch to your apartment but can't seem to get your pictures to stay up on the walls or hang straight?  Don't have the time to hang up your paintings?  Hunter's Home Improvement (your go-to NYC handyman) can help you hang or wall mount paintings, photographs and other art work in your home.   Below is a recent example of our hanging multiple photographs in a NYC apartment, all at level heights along multiple walls.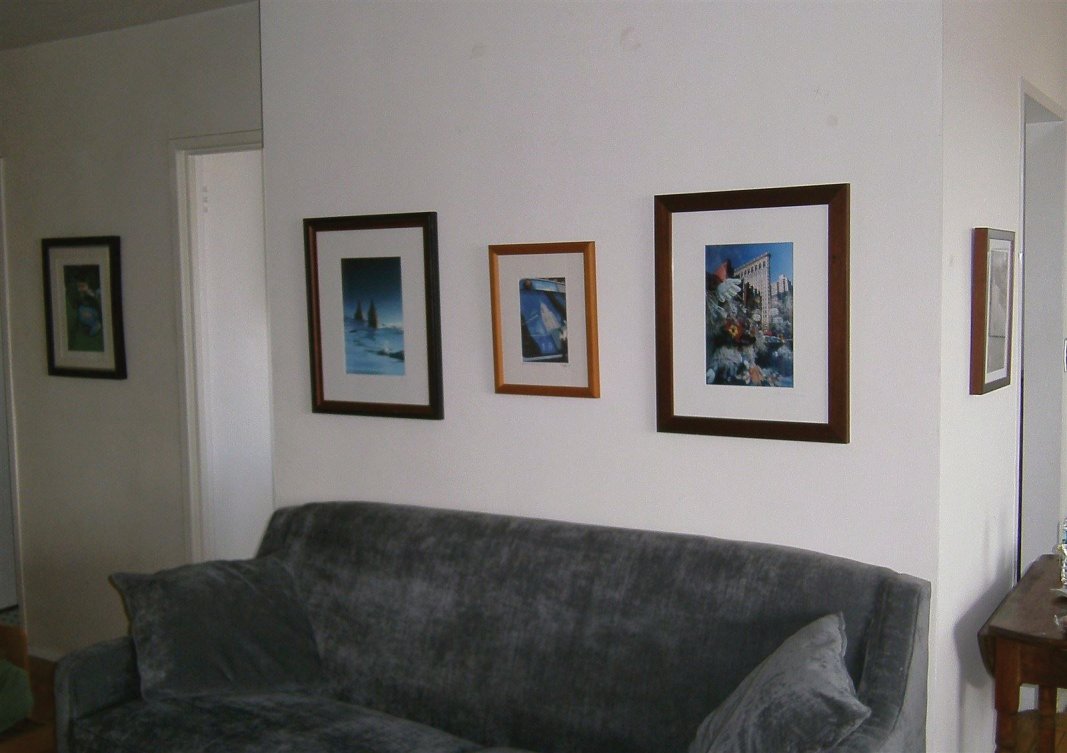 As part of our Manhattan handyman service, we professionally hang and wall mount paintings, photographs and other art work, as well as mirrors, curtains, televisions, shelving or other objects that you may want to wall mount, using appropriate quality weight bearing anchors to maintain a level appearance and prevent your art work from falling off the walls and maintain a level appearance.   If you are moving or removing wall treatments, Hunter's Home Improvement can also perform NYC home repairs such as patching any holes in your walls where items previously hung and repainting your walls. 
Call or email us for more information!
A woman contacted me today because someone had let themselves into her new apartment using an old copy of the key and removed some of her items.  Needless to say, she was worried about her safety and wanted the locks changed.  In less than 30 minutes, I replaced her deadbolt and restored her sense of security.  If you are not sure who may have keys to your apartment, you may want to consider getting your locks changed as well.
/